Back in October, I went to California for two weeks to work the Desert Trip festival my company was hosting. Ricky came out for a couple of days to visit and do a little exploring with me on my days off. Of course, California is expensive, so we had to pull out all our tricks to save some money.
When you know you're going somewhere, keep an eye on flight prices. Check those apps we mentioned before (Hopper, Skiplagged, Kayak, and Kiwi) every day. They'll let you know when the best time to buy will be and when that price hits the lowest expected number, be ready to purchase! We ended up getting Ricky's round trip flight to LA for $300.
Airbnb is huge in LA (and I think California in general). We were able to rent an awesome place in downtown LA for $99/night. We also ended up staying in Indio for a night in a Marriott Studio Villa that someone was renting out on Airbnb for $100/night and it's normally $200 or more! Airbnb is totally your friend, use it!
Keep it Simple. It's so easy to get carried away when you're on a trip, especially L.A., but you don't need to. First of all, try to cook when you can. It's totally fine to go out to eat but use Groupon to find a restaurant in your area that is affordable. If you're in a hotel, sometimes the Room Service breakfast is actually cheaper than going to Starbucks for a coffee & breakfast sandwich so definitely check that out. And sometimes the Airbnb host will make you breakfast or leave you some breakfast bars (it'll say that in their description)! For this trip we felt buying groceries was the best way to save and just cook at the Airbnb. We've also found that riding a tandem bike around a new place is a great way to see the city. Groupon often has bike rental deals!
What we did during our few days in California:
Catalina Island - We took the Catalina Express Ferry here and it was definitely a little pricey but totally worth the trip. When you're going to spend a little extra money in one area, you need to save in other areas. The island was beautiful and there were a ton of activities to do. We wanted to rent a golf cart and drive around the whole island, but that was out of our price range after the amount of money we spent on the ferry ride. Also, the golf carts aren't allowed to be used to drive around the entire island to see all the cool wildlife and landscape, so we opted on a Jeep Eco Tour around the island, and we were much happier we did it. It was a great experience and tons of fun! In another effort to save money, we had brought our own snorkeling mask and mouth piece (pics of it on the About page!) and went swimming for a bit. The water was crystal clear & the fish were incredible but it was a little bit cold for us to handle, so we did end up renting a couple of wet suits there. We also later notice that when traveling we swim in the ocean or lakes as much as possible, so we invested in our own wet suits. We ended up loving our time on the Island and we were back to our Airbnb for dinner that night!

Indio - Since my festival was in Indio, CA, we spent a night there as well at the Marriott Villas we found on Airbnb. The property was beautiful and while there wasn't much to do in the area, the hotel had quite a few amenities. This was another learning experience for us though because the area was so desolate, there weren't many food options and we ended up being forced to eat at the hotel and buying food out. That's an expensive move. When you're choosing a place to stay, make sure you've got the necessities around you. And believe me, the grocery store is a necessity.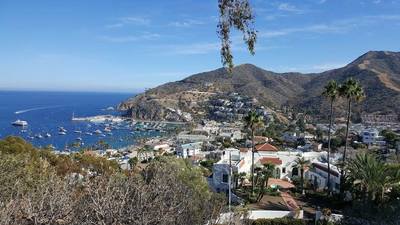 If you liked this post, check out the below!